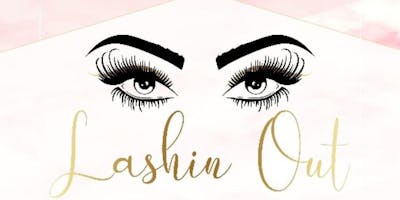 Lashin Out  Semi-Permanent Eyelash Extension Training including 2 additional lash techniques (clusters & Strips)
Lashin Out presents the Semi-Permanent Eyelash Extension Training Seminar. In this course you will learn how to properly apply eyelash extensions to natural eyelashes safely and securely, and all the information you need to know to become a successful Eyelash Extension Stylist.
Class Length:
Option 1 Class Total $500 ($300 deposit required to secure your spot)Approximately 5 hours
- 1 Hours of education
- 1.5 Hour of Mannequin Training
- 1.5 Hours of look and learn training
- 3 Hours of live model practice (must bring your own model, details for model will be emailed)

What's included in the class:
- Certification of completion
- Kit + Mannequin
- Compressive take home manual
- Continuous mentorship and support

What will be covered in the class:
- History of eyelash extensions
- Potential Earnings
- Client consultation
- Eyelash Growth Cycle
- Medical Concerns / Contradictions
- Proper Sanitation
- Eyelash extension information (Length /Diameter)
- Eyelash Application
- Eyelash Removal
- Q and A
And More!
After you register for the class you will receive a receipt for your deposit via email. One week prior to the class date you will receive an email confirmation with the final address and all the information that you will need for the class.
If you have any questions, don't hesitate to call us at 561-614-7086 email us [email protected] or check out the website www.lashinout561.com All you need to do pay the deposit that is required to save your seat in the class. The balance must be paid in CASH upon arrival to the course. The location will be announced 1 week before the class via email! Join Now because seats ar very limited and fill up fast.
After purchasing you will comple your registration here.
Lashin OUT does not require a license to attend the course. However, we do encourage students to check with their local county and state government for the requirements to practice in their area.
ALL SALES FINAL // NO REFUNDS // DEPOSIT IS NON REFUNDABLE NON TRANSFERRABLE