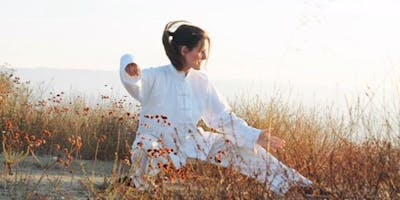 Experience and enjoy the ancient art of T'ai Chi Ch'uan with slow-motion, low-impact movements that promote peace, inner calm and improved health. This 8-week series will be held mornings outdoors under the Pergola in the beautiful La Fetra Nature Education Center and Gardens at TPF. (Aromatherapy from nearby native plants is on the house!)
Series is suitable for beginners and will move at the class's pace. More-experienced students will have the opportunity to work on their form and refine their movements.
Classes will be held on Thursdays, Oct 10, 17, 31; Nov 7, 14, 21; and Dec 5, 12. Fee covers all 8 sessions. Sorry, no walk-ins.
Iren Jensen has practiced Tai Chi under the tutelage of Grand Master Kai Ying Tung and his son, Master Chen Wei Tung, for 20 years, continues her practice and intensive study on a daily basis, and has been teaching for almost 15 years. Sharing her love of Tai Chi is Iren's greatest joy and passion. Current clients include Kaiser Permanente Medical Group, Google, the Menorah Housing Foundation, the City of Burbank, and the City of Los Angeles, to name a few. She is also a native plant gardener and longtime TPF member.