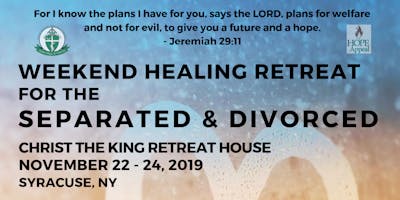 This year's annual retreat for the Separated and Divorced will be held from November 22 - 24, 2019, at Christ the King Retreat Center, 500 Brookford Road in Syracuse. Uplifting talks, prayer, Mass, sharing with experienced team members, and opportunities to talk with a Priest are all part of the weekend experience. Join us to experience God's love, healing, strength, support, and peace!
$175 for the full weekend and all accommodations
$95 for the full weekend commuter rate
$50 for Saturday attendance only.
Tuition reimbursement is available for those with financial needs. For questions on registration, simply reach out to Deacon Dean Brainard at 314-472-6754, or email [email protected] Learn more at www.familylifeeducationsyracuse.org.   All are welcome!