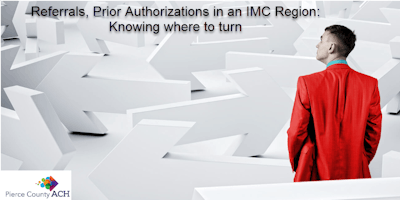 Pierce County ACH, in partnership with our Regions Managed Care Organizations, is hosting a 1/2 day training, for frontline staff, for providers in Primary Care, Community Organizations, non IMC Behaviorial health Providers, and anyone else interested in learning about the process to get a patient referred into care, for Mental Health/ SUD treatment, whether Inpatient, Residential, or Intense outpatient.  As we have taken a large step towards Integrated Care for our patients, there are changes in processes, and workflows. 
You will leave here knowing who to contact for a Referral/Authorization, what your role is in ensuring the patient gets the level of care they need, and who to reach out to for assistance when you need it. 
Front line staff and those who train staff, on referral/authorization workflow processes should be in attendance.