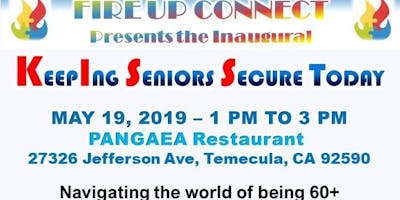 The world of 60+ years can be daunting and frankly, a little difficult to figure out.  Wouldn't we all apprecate a little help and guidance?  Maybe even find out what you didn't know you didn't know?  
You are invited to joing the FireUp Connect Senior specialists and friends in an afternoon of exploration and information.  HOW does one "get it right" in this world and in these days?  Well, these professionals all have some answers to the larger puzzle of aging and gracefully doing so.  Seniors and their adult children are welcome to come and learn how to help parents 
FireUP Connect and Panagea welcome you to come to a comfortable atmosphere, come as you are and come with questions.  A no host wine bar is open and we will have a few finger food snacks.  
Please let Laura Roeder know by RSVPing to this invite!
FireUP Connect and their Senior Specialists look forward to meeting you and your family!