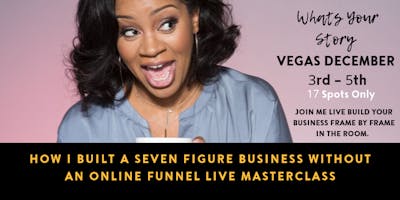 EITHER we need to get to a million or ADD a million. 
A Clear Map To Nail Either Your First 250K or Your Next 250K

How To Generate Leads Monthly, Quarterly & Annually

Nail Your Messaging To Attract Exactly Who You Want

30 Day Cash Map

Onwards To Freedom Mindset Focus Strategies

How To Build Your Network Quickly

We could nail a new program, product and or offer with pricing.
We could nail how to deliver the new revenue source and/or how to improve a current one.
BONUS: 
* How To Take Your Story To The Stage 
* How To Get Hired As A Speaker 
* How To Generate Leads Through Speaking 
Teaching & then an AMA - Laser coaching session. 
The Power Of Story Training Watch Here, Enjoy. 
Your story is the only thing that allows you to separate yourself from the competition, use it.
~Tiffany Largie