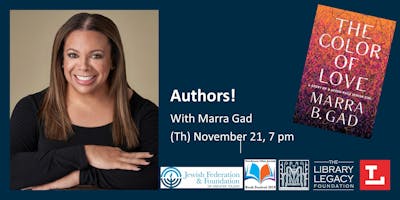 The Toledo Lucas County Public Library and the
Northwest Ohio Jewish Book Fesitval
are happy to welcome Marra Gad to the McMaster Center!
 

 
 Tickets include a dessert reception, prior to the speaking engagement.
 
About the Book and Author:
An unforgettable memoir about a mixed-race Jewish woman who, after fifteen years of estrangement from her racist great-aunt, helps bring her home when Alzheimer's strikes. In 1970, three-day-old Marra B. Gad was adopted by a white Jewish family in Chicago. For her parents, it was love at first sight—but they quickly realized the world wasn't ready for a family like theirs. Marra's biological mother was unwed, white, and Jewish, and her biological father was black. While still a child, Marra came to realize that she was "a mixed-race, Jewish unicorn." In black spaces, she was not "black enough" or told that it was OK to be Christian or Muslim, but not Jewish. In Jewish spaces, she was mistaken for the help, asked to leave, or worse. Even in her own extended family, racism bubbled to the surface. Marra's family cut out those relatives who could not tolerate the color of her skin—including her once beloved, glamorous, worldly Great-Aunt Nette. After they had been estranged for fifteen years, Marra discovers that Nette has Alzheimer's, and that only she is in a position to get Nette back to the only family she has left. Instead of revenge, Marra chooses love, and watches as the disease erases her aunt's racism, making space for a relationship that was never possible before. The Color of Love explores the idea of yerusha, which means "inheritance" in Yiddish. At turns heart-wrenching and heartwarming, this is a story about what you inherit from your family—identity, disease, melanin, hate, and most powerful of all, love. With honesty, insight, and warmth, Marra B. Gad has written an inspirational, moving chronicle proving that when all else is stripped away, love is where we return, and love is always our greatest inheritance.
 

About the Presentation: At each program, authors speak for about forty-five minutes, followed by a short question and answer session. After the program, the author may be available for a book signing. books will be for sale at the event.
 
Presented by:

 

 

 
 

 
____________________________________________________________________________
FAQs:
Can tickets be purchased by phone? No, tickets can be purchased online through Eventbrite, or through any Toledo Lucas County Public Library location or the Jewish Living Center of Greater Toledo. What are my parking options at the event? The facility has free parking. What time do the doors open?  General admission seating starts at 6:30 p.m. Are there assigned seats?  No. Seating is general admission, but the purchase of a ticket does guarantee you a seat. Is handicapped seating available? Handicapped seating is available. For special seating arrangements, please call 419.259.5196 at least one week prior to the event.  Will an American Sign Language Interpreter be provided for the event? We are happy to provide an ASL Interpreter for the event - if you require this service please contact us at 419.259.5196 at least 10 days before the event, so arrangements can be made. What can/can't I bring to the event? Please do not bring outside food / beverages. There is no video recording or flash photography allowed. Will the author hold a book signing after the talk? The featured author is typically available to sign copies of their works. Restrictions for signing are subject to the authors, their management, or event circumstances.
Where can I contact the organizer with any questions?  Call the Library at 419.259.5200. Do I have to bring my printed ticket to the event? Yes, tickets will be scanned at the door. If you choose to utilize your mobile device, tickets can be scanned via your Eventbrite email receipt. Note: Screen shots/captures of the ticket receipt cannot be scanned. Please have your device with ticket receipt open and available for scanning at entry.
 
What is the refund policy? Tickets will be refunded only if the event is cancelled.