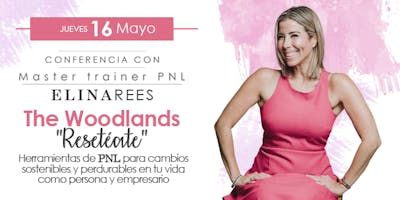 Ya Houston sé Reseteo!  Ahora es el turno para The Woodlands, TX .
Despues de tener un gran éxito en Noviembre 2018 dónde 250 personas eligieron estar alli, llega al Norte de Houston: The Woodlands " Resetéate"
Herramientas de PNL para  cambios sostenibles y perdurables en tu vida como persona y empresario 
-Qué puedes y qué no puedes cambiar en tu vida
Te entregare los 3 elementos de tu vida que no se pueden resetear y te daré las tecnicas que necesitas para cambiar el resto. También,  te entregaré un anclaje de excelencia que podrás usar cada vez que lo necesites. 
Ven y únete a los exitosos,  que ya vivieron esta experiencia sensorial. 
Herramientas poderosas basadas en técnicas de Programación Neurolingüística PNL para tu máximo beneficio.       10 AM- 1 PM
La Tranquila Ranch:  9418  Farm to Market 2920. Tomball, TX 77375
Boletos a la venta:
Info:  Ana Sofía (281) 935-6027
Esta conferencia esta diseñada para crear un  alto impacto en los asistentes, en la cual  podrán identificar que no pueden cambiar en su vida y entender que el resto, si lo pueden cambiar. Adicionalmente,  se les entregara las herramientas para realizar dichos cambios paso a paso, se les explicara como aplicarlos de manera exitosa, dado que ha sido una metodología aplicada por Elina Rees con centenares de personas obteniendo todos un mismo resultado en común: ¡ÉXITO!
Dirigido a un publico receptivo a nuevos conceptos para cual serán motivados  a generar cambios en su vida por medio de la acción.