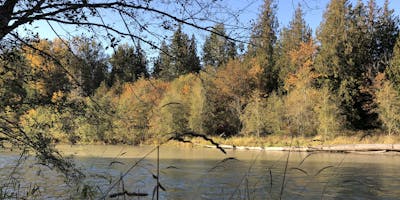 This year our Powell Creek Protected Area grew with the addition of a large pasture formerly used for agriculture. Restoring this fallow field to riparian forest will improve the health of nearby Powell Creek and the Nisqually River, which is important for the fish and wildlife species that use those waterways, including threatened Chinook salmon and Steelhead trout.
On MLK Day of Service, join us for the first phase of restoring this important habitat. We will be planting oceanspray, Oregon grape, shore pine, Douglas fir, and snowberry. Volunteers are welcome to stay for the whole event, or drop in for the morning or afternoon. Coffee and snacks will be provided. Once you register through the "Register"  button, you will receive driving directions to the site. 
We hope to see you there! If you have questions about this event or other volunteer opportunities, email Volunteer Coordinator Courtney Murphy at americorps@nisquallylandtrust.org.