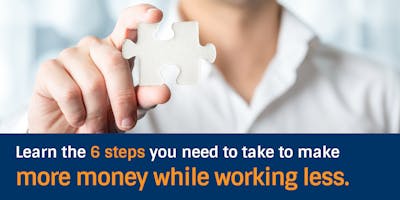 As a busy entrepreneur, is this true for you?
The daily tasks of your business leave you with no personal time
You don't track prospects effectively and lose sales in the process
Your current sales process does not generate enough business for you
So how does a busy entrepreneur like yourself increase your income, have more free time, and have the quality of life that comes with vacations and personal time?
Attend BUSINESS ESSENTIALS FOR BUSY ENTREPRENEURS
Learn the 6 steps you need to take to make more money while working less
Learn the #1 skill needed to double your sales in the next 90 days
Learn the 6-step sales process that will increase your close rate
At the end of this 2-Hour Training, you will leave with the tools you need to predict your sales 30 days in advance, plus with a clear understanding of the principles you need to follow to:
Free up your time
Build the right team
Significantly increase your profits
Join us for this powerful training that will transform the future of your business.

BUSINESS ESSENTIALS FOR BUSY ENTREPRENEURS
Thursday, July 18, 2019, 4:00-6:00 pm / $97**
** Business Essentials for Busy Entrepreneurs requires a minimum of 6 registered attendees. In the event that minimum is not met, your registration can be changed to another available date. Please note that registration for this event is non-refundable.
MASTER BUSINESS COACH MARISSA MARSAYBusiness Essentials for Busy Entrepreneurs will be presented by Master Business Coach Marissa Marsay. Marissa has an MBA and 15+ years of experience running all aspects of a profitable small business since 2000.  With a solid business and marketing background, she now shares her wisdom with her clients to follow her lead, and develop a business that will grow in revenue, increase profit margins, and can be run with a lot less time involved for the owners.  As a balanced "left-" and "right-" brained business woman, she is able to tend to both data and its analysis as well as the overall strategic vision for her clients. 
   WATCH  VIDEO TESTIMONIALS FROM PAST ATTENDEES