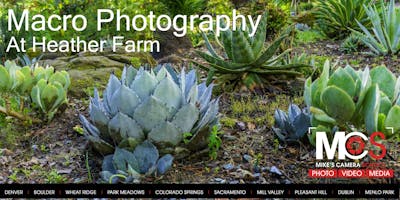 Join our two-hour instructional photo tour of Heather Farms in Walnut Creek photographing beautiful landscapes and capturing macro shots of flowers and insects.
Heather, your instructor, will help you compose wall worthy quality photos as well as show you tips for taking great nature shots.
This class will include a 2 hour photography walk with access to an educated instructor for any hands-on questions about composition, lenses, and settings on your camera.
‍What You'll Learn‍
Learn the fundamentals of landscape/macro photography while capturing amazing shots.
What are the best tools to have on hand when doing macro photography.
Tips for creating unique, eye-catching compositions.
The difference between lenses that can focus close and true macro lenses
How magnification relates to focal length and "working distance" explained
Tips for illuminating your close-up subject
How aperture affects depth-of-field when focusing closely
‍
Tuition includes a 12 x 18 inch print of your best shot from the workshop and a $10 coupon that you can use towards anything in-store at any Mike's Camera location!
‍More Info
Due to the hands-on nature of this workshop, class size is limited to 20 people.
Group will meet at The Gardens at Heather Farm
1540 March banks Drive
Walnut Creek, CA 94598
‍What to Bring
Camera(s) with an extra memory and extra battery
Variety of lenses
Auxiliary flash & or pocket reflector (recommended)
Tripod or monopod
Sun hat, sun screen
Includes a 12x18 inch print of your best image!‍
About your instructor:
Heather Shaw enjoys photographing people, animals, landscapes, events and whatever inspires her. Her goal is to keep capturing others' memories and also taking the path less traveled to capture scenes very few have ever seen. She has been an active professional photographer since 2009, and her passion for photography shows in her attitude and her work. Earning a photography degree from Modesto Junior College, Heather has extensive experience using, developing and printing film, using DSLR and Mirrorless cameras and editing images with Adobe Photoshop. She has had her work selected to appear in shows in Anaheim, CA and she has been recognized by a gallery located in Stockton.

Sign up today! Save 10% when you register more than 2 weeks in advance!
Click to see our full listing of classes for at all locations
Subscribe to our Newsletter to stay informed about new Mike's School programs!