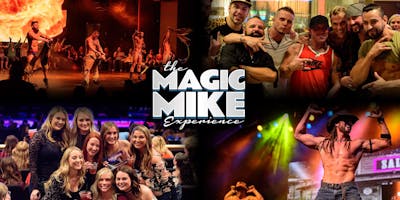 ⭐️⭐️⭐️⭐️⭐️ "I've been to quite a few shows in my time, and this had to be one of the best I've seen. The guys were great and you could see that they were having just as much fun as we were. I loved it!"
Its Your Turn To  "FEEL THE MAGIC"®!
AGE LIMIT: 21+    Doors open at 7pm   /   Show starts at 8pm
VIP Seating  (Very Limited)
Buy NOW!  Before They Sell Out!
A GIRLS NIGHT OUT
The MME showcases some of the Sexiest Men Alive as they sing, dance, and strip in choreographed routines to thumping beats and dazzling light shows. Come and see The #1 Male Revue Show in the World, and find out what all the fuss is about.
Tell All Your Friends The MEN Are Coming!       Don't miss this Amazing Girls Night Out!!