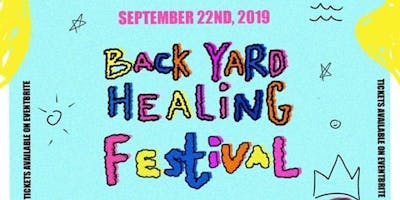 THE WOW OFFICE PRESENTS : THE 2ND ANNUAL "BACKYARD HEALING FESTIVAL."
JOIN US AND SPECIAL GUEST, MARZ LOVEJOY FOR A DAY OF COMMUNITY HEALING!!!
WE AT THE WOW KNOW THE IMPORTANCE OF COMING TOGETHER FOR THE GREATER GOOD. WE BELIEVE THAT IN ORDER FOR OUR COMMUNITIES TO HEAL WE AS THE PEOPLE IN THESE COMMUNITIES MUST HEAL TOO!

IT IS TIME TO CELEBRATE OURSELVES, COMMUNITY AND THE TRUE VALUE IN SUPPORTING AND HOLDING SPACE FOR EACHOTHER TO GROW AND PROSPER. JOIN US FOR A DAY FILLED  yoga, SOUND HEALING, ACTIVITIES, WORKSHOPS/CLASSES, PANELS, ART, VENDORS, FOOD AND SO MUCH MORE... "IT STARTS WITHIN, IT STARTS WITH US.
TIX INCLUDES 1 RAFFLE TICKET + ***FIRST 30 PEOPLE RECEIVE A GOODY BAG — REGISTRATION STARTS AT 8 AM SHARP !!! ***
DRESS CODE : COMFORTABLE! PLEASE BE MINDFUL OF THE yoga/ PORTION EARLIER IN THE DAY
FOLLOW US ON INSTAGRAM : @THEWOWOFFICE