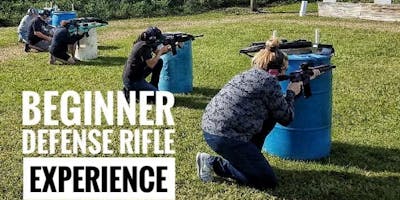 INTRO TO AR-15 DEFENSE RIFLE CLASS
This two part class begins in the classroom with a familarization with the rifle.  This class is perfect for the beginner and those who purchased one of these rifles, but still don't know what to do with it.  
In our FIRST segement in the classroom you will learn about the Rifle and how to use it.   We will take them apart as well and you will be surprised just how easy it is.  We will explore the inner workings and light maintenance all with our signature "ladies instructional approach".  (90 minutes: 5:30pm at the Store)
The SECOND part of the class takes place on the following Saturday at 10:30 am where you will learn to safely and properly fire your rifle on an outdoor range.   (60 minutes)
Each attendee should bring their own rifle and ammunition (100 rounds, aka 5 boxes...or more if you have it).  Bring hearing and eye protection, a hat, bottle of water and sunblock.  No low cut shirts or open toe shoes.
**If you do not have your own AR-15 we will provide one for $15.00 and you provide your own ammuntion.