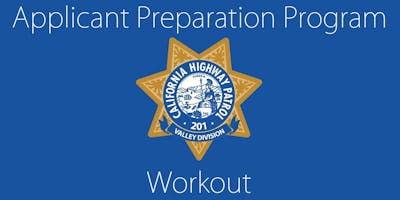 The California Highway Patrol (CHP) Valley Division Recruitment Unit will be conducting an Applicant Preparation Program (APP) Workout for applicants who are preparing for the Physical Ability Test (PAT) and admittance to the CHP Academy. Applicants will experience an intense physical training workout in the gym and challenging run around the CHP Academy grounds. In addition to the workout and run, applicants may receive instruction on completing the obstacle course, scaling the six foot wall, and basic drill movements. Lastly, applicants may experience enhanced audio instruction during the APP workouts as we expose them to the CHP Academy's paramilitary environment.
Those participating in the program are required to wear appropriate workout attire. This consists of a plain white crewneck t-shirt (no logos) with your last name neatly printed and centered on the back six inches from the collar in 1 inch block capital letters. Applicants shall also wear black or navy blue pants or shorts (shorts shall be an appropriate length). In addition, no jewelry, all tattoos shall be covered, and long hair shall be pinned up. Please bring a source of hydration to the workouts as the water fountains may not be readily available. Finally, please bring a flashlight or headlamp to the evening workouts during the fall-winter months.
*NEW ATTENDEES SHALL BRING A SIGNED WAIVER AND ARRIVE NO LATER THAN 1745 HOURS TO RECEIVE INSTRUCTIONS*
Waiver link:
https://www.chp.ca.gov/CHPCareersSite/Documents/Applicant%20Preparation%20Program%20Waiver.pdf
Directions:
Please enter the CHP Academy through the main entrance (2nd gate). Once you enter the CHP Academy, go around the traffic circle and make a right turn into the north parking lot and follow the signs for Classroom 10. Please park in the perimeter stalls which are located on the left side of the north parking lot. Walk towards the end of the parking lot which will lead you to the service road (next to K9 Kennels). Make a right turn and continue walking down the service road until you arrive at the Track and Field.