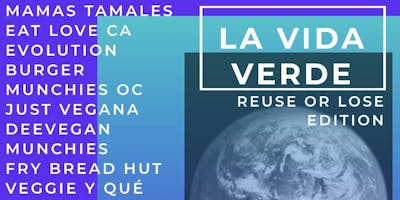 Once again we are in Whittier to bring you La Vida Verde Fest!!  
An all Vegan event, food and vendors!!
This year's them is "Reuse or Lose", all attendees are encouraged to bring their reusables. What is a reusable, basically a fancy word for Tupperware. As we enjoy and indulge in vegan food, we should be mindful of the impact we leave behind with all the trash accumulated. By bringing your reusables, you're helping reduce our impact on the environment. It's important for us to be an example. We're aiming for 100% participation, can Whittier be the first to make this happen? Get those tupperware containers and bags ready!
First 20 people to show their reusable container will get a free Tote!
Vendors 
Mamas Tamales, Eat Love CA, Evolution Buger, Munchies OC, Just Vegana, Deevegan Munchies, Fry Bread Hut, Veggie y Que
Drink Leche, Mi Kasa Vegana, Mama Chingona, Green Door Desserts, Vegan Latina Bakes, Enjoying Earth
NoHo Candle Co, Chompton, Bubblegum Pink, Crystal SKY, Bohemian Bowls, Yaocihuatl Organic, Lucids Room
We look forward to seeing you!!