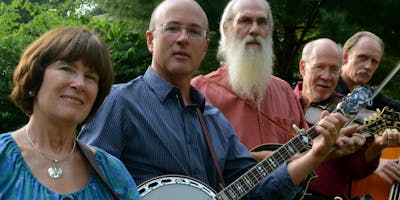 SPECIAL NOTE: Grass Routes represents the 'real deal" in Bluegrass music.. Their combined writing, instrumentation, and vocals are akin to a well oiled "Bluegrass machine". EC-CHAP is proud to host this CD Release Event! Celebrate the public debut of "Buffalo Nickel, Liberty Dime" with us at The Packing House!
GRASS ROUTES is a Connecticut five-piece bluegrass band.  It is a well established group that has been delighting audiences for many years with a repertoire ranging from traditional bluegrass standards to folk and original and contemporary songs all performed in their own unique bluegrass style. 
Members of the band include Joe Lemeris, banjo and dobro; Bill Reveley, mandolin and fiddle; Marilyn Toback-Reveley, rhythm guitar; Tim St. Jean, song writer, mandolin, fiddle, concertina, lead guitar; Joe DeLillo, upright bass. 
Skillful instrumental work and strong vocals give Grass Routes their own characteristic sound.  Showcasing especially tight harmonies, vocals include duets to four part harmonies.  What makes Grass Routes unique is that each member sings lead.  With five lead vocalists, Grass Routes presents a different style and material with each vocal arrangement.
Join us for an evening of authentic bluegrass and experience the debut of this new project This program is hosted by the "Eastern Connecticut Center for History, Art, and Performance" (EC-CHAP). Doors 7:00pm / Show 7:30pm. Tickets $15.00 in advance online / $20.00 at the door. Senior and Student pricing available. 20% Discount at Door for EC-CHAP Members.
Soft drinks and snacks available. "BYOB&F" - Bring Your Own Beverage & Food (Wine & Beer Only - I.D. Required). You can also bring your paid ticket to Willington Pizza House (or WP Too) for eat-in or take-out the night of the show and receive 15% off your meal purchase. Ask for "The Packing House" pizza! Click here for secret recipe. 
For information and table reservations, please call 518-791-9474.