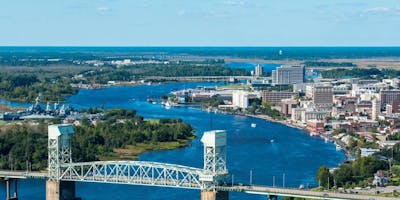 An evening of discussion and networking, for legal professionals in Wilmington—hosted by Clio and PwC.
Join us on Friday November 22nd for our Innovate Legal event in Wilmington. Come and celebrate the new partnership between Clio and PwC, meet fellow innovative legal professionals, and expand your firm and business management skill sets.
The event will kick off at 6:30 pm and run through 9:30 pm, with light refreshments, wine, and hors d'oeuvres. We recommend booking early to secure your place; you can register today on this page.
Who should attend this Innovate Legal event?
Innovate Legal is an event for legal professionals who want to grow their knowledge, network, and skill sets by learning from—and connecting with—industry peers.
What value will you get from attending?
The Innovate Legal event series is designed to help you fast-track your personal growth and accelerate your firm's success. Each evening will help you make lasting professional connections while gaining valuable insights from legal innovators and leaders.
Who is speaking at this event?
Nefra Macdonald
Affinity Programs Manager at Clio
Nefra MacDonald is the Affinity Programs Manager at Clio. Having worked in legal for nearly a decade, Nefra understands the pain points that affect legal professionals, and she uses her experience to help lawyers streamline processes and run a better business. A graduate of the University of Miami, Nefra is a passionate speaker about legal technology, attorney health and wellness, and other topics relevant to legal professionals. 
More speakers to be announced…
Space is limited, we recommend booking early to secure your place; you can register today on this page.
NOTE: If you sign up for the event, Clio may inform you of any event changes or provide you with resources (such as event slides) via email.