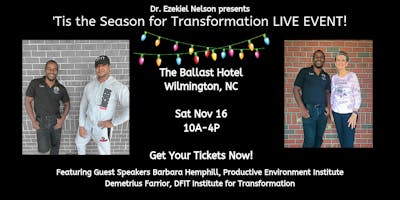 It's the End of a Decade!
Not just a Year...but a Decade!
 
Forget New Year's Resolutions...we're beyond that!
It's time for TRANSFORMATION!
 
Join us on November 16th for the first ever
TRANSFORMATION LIVE EVENT
Featuring World Class Experts!
Learn the 7 Daily Disciplines to Move from Frustrated to Focused

Discover the 8 Core Steps to Weightloss Transformation

Master a 5 Step Process to Accomplish Your Work & Enjoy Your Life

Access 6 Keys to Productive Recovery from Addiction

Receive the 5 Step System to Heal Your Body Through Holisic Self-Care
*FOOD*
*LIVE MUSIC*
*TRANSFORMATIONAL GUEST SPEAKERS*
*ONE-ON-ONE CONSULTATIONS WITH THE EXPERTS*
*VALUABLE NETWORKING*
 
You can completely change your life by changing the things you do daily.
 
Shape your body, boost your health, improve your environment and get the tools to maximize your life.