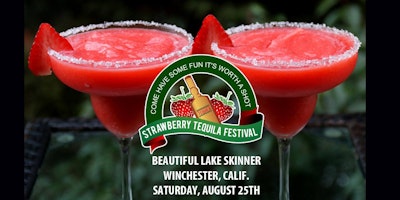 Come check out our Strawberry Tequila Festival at Lake Skinner in Winchester on Saturday, August 25h from 11 - 6 p.m. We will have our event in the large grass area, and there is plenty of room for you to come enjoy The Strawberry Tequila Festival will be filled with Strawberry Magic, live music, tequila tastings, margaritas, Lagunitas Brewing Co craft beer, and fun activities for the entire Family! Revolving around great live music—including Salsa, Reggae, Rock and Cumbia. A great selection of food, arts and crafts vendors, and did we mention Margaritas and Tequila Tastings?! 
Lake Skinner is nestled in the rolling hills of Winchester, CA. Beautiful Lake Skinner Recreational Area offers visitors expansive natural vistas and invigorating recreational opportunities, including camping, picnicking, hiking, horseback riding, sailing, and fishing. 
Come camp for the weekend and enjoy our Strawberry Tequila Festival at Lake Skinner! Book your site now! (http://rivcoparksreservations.org/reservations/flash/flashreservations.asp?parkId=5) 
Come have a great time, eat, drink, dance or just chill! Don't forget your chairs and bring out the whole family! 
Guests 21 and over are just $20 to enter and include 2 complimentary beers. Guests under 21 are $10.