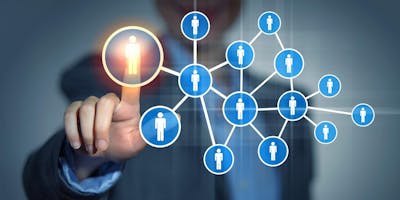 This Month's Agenda
Hello,
We are looking forward to another great meeting on Friday.  Seats are limited.  This month's meeting guest speaker will be Sarah Shabbar, and Scott Nell from Keller Williams presenting the ins and outs of social media marketing with an emphasis on LinkedIn marketing for professionals.  Come early and network with us.
So be sure to save your seat and register TODAY!" Thanks, Michael
 
FAQs
What are my transportation/parking options for getting to and from the event?
There is free parking across the street in the shopping center, however you will be parking at your own risk.  Paid covered parking is available adjacent to the office suites.
 

This Month's Speaker Team
Sarah Shabbar Marketing/PR Specialist
Sarah Shabbar graduated from California State University, Northridge in 2015 with her bachelor's degree in Journalism, emphasis in Public Relations and minor in Communications Studies. Upon graduation, she served in different Public Relations capacities before starting her own freelance digital marketing firm. Currently, she is a graduate student at CSUN studying Mass Communications. Her focus is on creating content and developing marketing strategies for her clients. She has a common sense approach to building up and promoting businesses. 
Scott Nell, RealtorScott Nell Team | Keller Williams RealtyTop 2% of Agents Nationwide
By his second year in real estate, Scott Nell was already a top performer in his office. Today, he's one of the San Fernando Valley's most sought-after agents, known for his insightful, highly effective negotiating and marketing skills, unsurpassed customer service, and commitment to treating his clients like family.  Scott entered the field with a unique edge. Over the years, Scott has acquired an expert stance on the strategy regarding Probate & Trust, Divorces, and 50+ Adults. As a Certified Seniors Real Estate Specialist (SRES®), Scott has the knowledge and expertise to counsel clients age 50+ through major financial and lifestyle transitions in relocating, refinancing, or selling the family home. 


 
About Divorce Transition Professionals (DTP)
Why 2.0? Well, after 10 years it is time for a change. A change in location, a change in format and a change in the design. So, we're bringing in a top-notch speaker, holding it in a top-notch location, providing all of the networking and business opportunity you could ask for with some of the best professionals in the community that specialize in working with people dealing with divorce. While this particular meeting may not have all of the following, we expect to provide continuing education, networking, study groups, break-out sessions, case consultations and more......
This event is completely free to all FIRST TIME attendees. It is an opportunity to find out what the Divorce Transition Professionals is all about, what it is about to become and how becoming a member will benefit you. So, if you are a professional in the divorce field i.e. Attorney, Accountant, Financial Professionals, CDFA, Mediator, Therapist, Realtor, Mortgage Broker etc.....please attend and check us out. There is nothing like us in the area currently.
 

 
DTP Woodland Hills - Chapter Leader

Michael TeplinskyAttorney - Family Law
Tel: (800) 419-4171eMail: [email protected]
Michael Teplinsky focuses his family law practice on the principles of Collaborative Family Law, Collaborative Mediation, facilitative mediation, and evaluative mediation. FamilyFirst Law has over a 95% success rate when parties commit to the Collaborative process.
Trained collaborative attorneys, parenting coaches, financial specialists, and other professionals come together as a team to work with your family to educate, advise, and guide your family towards mutually agreeable solutions in a respectful, but structured transformative environment in which the parties maintain complete control. It is an effective and new way to end a marriage or resolve a martial conflict without the acrimony, anger and resentment which often results from protracted conventional legal and adversarial litigation. Collaborative Law is fast, cost-effective, and protects you and your children from the harm associated with litigation and adversarial divorce.
 

DTP Woodland Hills - Chapter Host

Douglas J. WolfAttorney - Family Law
Tel: (818) 888-0033eMail: [email protected]
Douglas Wolf understands that dissolving a marriage is one of life's most traumatic events. Learning how to co-parent, deal with division of property, and moving on to establish one's own life presents challenges. How one goes about dealing with these issues is of paramount concern. Do you allow the courts to resolve your differences or do you work together in insuring that each of you controls the outcome of your life?
Douglas has practiced law exclusively in the area of family law and dependency law for over thirty five years. Located in Woodland Hills, Douglas Wolf is an experienced litigator, but takes much pride in working with parties either in a collaborative environment or as a mediator in assisting clients work through the many issues that arise in a dissolution of marriage or in its aftermath. He is one of a limited number of attorneys certified as a collaborative lawyer. His office represents clients regarding child custody and visitation issues, child support and spousal support issues, and property issues.
 

DTP Non-Profit of Choice

ABOUT CENTER4SPECIALNEEDS
Center4SpecialNeeds is a 501(c)(3) non-profit corporation founded in 2011. It was established to provide resources, education, and offer a variety of supports for families who have children with special needs / developmental disabilities in Ventura County, California. Towards the end of 2016, we have updated our bylaws to include children ages 2-16 and young adults. Also, we expanded our outreach to not only cover Ventura County, but to cover Los Angeles County, Orange County, and Santa Barbara County. In addition, in the beginning of 2017, we will be providing direct services including social skills programs and social & educational opportunities for children and young adults.