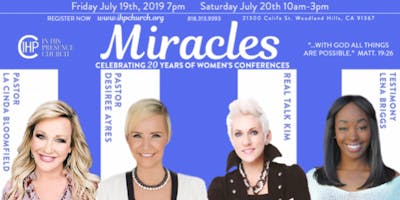 Hi Royal Ladies of Los Angeles and Beyond,
Come Celebrate 20 Years of Women's Conferences here at In His Presence Church! We have seen and experienced countless MIRACLES! 
A weekend filled with Fun Surprises, Great Worship, Powerful Preachings, Healing Anointing, and more! Life is better together so bring your neighbor, sister, mother, friends and enjoy a great time! Join us for this Weekend full of Miracles!!!