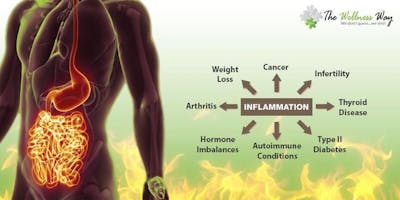 DETAILS 
Inflammation... you hear the term a lot, but really...what is it? What is going on in the body when something gets inflamed? Is inflammation the root of your illness? How harmful is chronic inflammation? How do you correct the problem naturally?
Inflammation is at the root cause of most diseases. Struggles with heart disease, fertility, weight loss, anxiety, blood sugar, autoimmune conditions and more, have ALL been shown to stem from inflammation.
We would love the opportunity to show you a different way...a unique way of approaching your health conditions and symptoms that has helped countless people feel better, think better and be better - helping them re-write their life story.
SPEAKERS
Join Dr. Nathan Thompson as he begins to connect the dots for you! Learn how inflammation is at the center of sickness, and what steps you can make to take control of your health.
BRING A GUEST
Grab a friend and join us for an event that will change your life!
WHERE
Exemplify Health Center | 728 E Veterans Pwky, Suite 115 | Yorkville, Illinois 60560
WHEN
Tuesday, November 19th @ 6:30 pm
REGISTER
You MUST pre-register online for this event!